Interview: Joanna Go of CutandChic Vintage
Happy Saturday! I am away on vacation, so I've put together a few posts featuring interviews with other bloggers and vintage sellers. Today's interview is with Joanna Go of
CutandChic Vintage
.
I stumbled across Joanna's Etsy shop the way you do — something beautiful or shiny catches your eye, and before you know it, you've wasted a half-hour browsing through amazing vintage and filling up your (in my case, imaginary) shopping cart with goodies. What first attracted me to Joanna's shop were the vibrant colors and amazing prints of the clothes she carries. I am a sucker for a great print! And I really enjoy the style inspiration she posts on her
blog
. I went "behind the scenes" with Joanna to find out a little more about what it's like to run both her shop, and her blog. Here's what she had to say:
Describe the aesthetic of CutandChicVintage. Who is your customer?
The CutandChicVintage gal is glamourous, chic, and playful. She's aware of trends but isn't a slave to them. She wears what she wants to wear and she loves to wear vintage because she likes to stand out from the crowd. I think most vintage lovers have this trait, they show their uniqueness by wearing something they know is one of a kind and no one else will have.
How and when did you fall in love with vintage?
I loved vintage before I even really knew what vintage was. When I first went to London as a study abroad student, there was a charity shop a short walk away that I used to go to all the time. I was a student so I didn't have a lot of money and thrift shopping was the affordable thing to do! I'd buy vintage pieces and mix them up with stuff I already had from the high street shops. The great thing about a vintage piece is it always makes a statement and if taken care of the right way it can last a lifetime. From then on my love affair with vintage stayed with me. Every vintage find has a story and that's really cool.
You write on your Etsy page that you started out selling at a stall in Spitalfields market, in London. What were some of the challenges and advantages to switching to online sales via Etsy?
There are definitely some things I had to adapt to with regards to how I sell my vintage wares from a stall to online. The biggest challenge I have to selling online is compensating for the fact that customers won't be able to see firsthand or try on any of the garments before buying it. I want my customers to be comfortable with making a purchase online and really love the item that they've bought once they get it. Nobody wants to wait a couple of days to get something in the mail, only to be disappointed, and I understand that, having ordered many things online myself. I try to be as descriptive as possible when selling online, from measurements to an item's condition. Still, I love selling online. I can reach and connect with people from all around the world, my shop is open 24/7, and my overhead expenses are a whole lot less!
How has your shop evolved over the years?
With each year, my shop has grown from inventory to branding. It's a journey I'm so happy to be on!
What do you know now that you wish you had known when you got started?
To remember to have fun! Starting a venture from scratch can be a very intimidating and overwhelming process. When I first started, progress was slow and that was very frustrating, but that didn't change the fact that I love what I do! I love going vintage hunting and finding something special and unique. I know now to take a step back and remember that. After all, Rome wasn't built in a day and neither will my business. It's an ongoing process.
Where do you source most of the things you sell — flea markets, thrift stores, estate sales, etc.?
All of the above!
What's one thing that you will automatically buy if you see it, because you know it will sell immediately. And on the contrary, what have you been wrong about (i.e. bought something thinking, "Oh, this will surely sell," only to have it languish in your shop)?
Items from the '50s and '60s sell really well, dresses and lingerie in particular, as well as purses. I've always sold vintage army shirts and jackets too, even in London, because they sell really well, both men and women wear it. On the other hand, separates, like tops and skirts are a bit slower to sell. I think it's because someone may think, what am I gonna wear this with? I try to add little outfit or pairing suggestions to some of my listings and on my blog, hoping it will help visualize how it can be worn.
How do you make decisions about price (how much to buy, how much to charge)?
There are a few factors I think of when it comes to price — the quality, the style, (is it something with a lot of demand), is it a collectible? Research is key, whether it be about the brand or how much a similar item sells in the marketplace.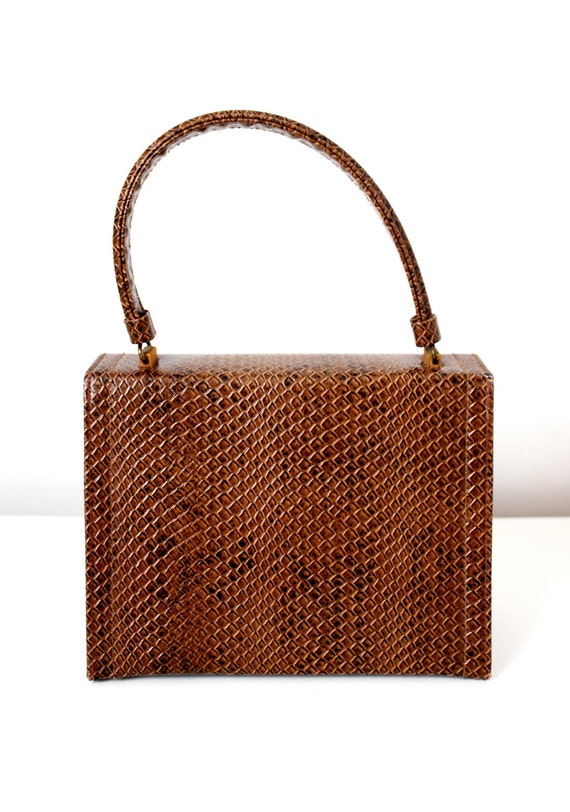 Vintage 1950s/60s snakeskin box purse | $64
What's your personal vintage weakness (a particular era or type of garment/accessory)?
I really love the '60s and '70s, so I'm a happy gal when I find something awesome from that era, whether it be dresses, bags, and/or jewelry.
What 5 items in your wardrobe would you be lost without (figuratively speaking - not talking about underwear, socks, etc.)?
I have three rings I wear all the time. I love them and they all come from Etsy (a horseshoe ring from
36ten
, a double skull ring from
zizibejewelry
, and a ring made of repurposed guitar strings from jadevera)! I'm a bit of a rock 'n' roll girl so no matter what I'm wearing I always have my rings! I love my vintage faux fur cape from
Vulture Vintage
; it's a classic statement piece. I always have a white tee and a pair of skinny jeans in my closet wherever I go, they're basics I can't go wrong with. I think that maybe one too many!
Thanks, Joanna! Stay tuned for one last interview before your regularly scheduled programming resumes ... in the meantime, I'm posting plenty of vacation pics on
Instagram
.