Spoiled for Choice
So, this is what happens when I have a lot of time to get ready in the morning:
Today's
Jumpin' July Style
prompt is "Feeling Naughty-Cal," which I just interpreted to mean "nautical style," because, let's be honest, I'm not going to wear anything that's even the slightest bit naughty. I picked out my basic outfit — an awesome striped top I thrifted a few weeks ago, and a khaki skirt I've had for ages — right away.
But then I got stuck. I mean, really stuck. I just kept pulling more and more accessories out of my closet. It seemed like I could literally add anything to this outfit and it would look great.
I went with an understated and feminine take on nautical style, pairing neutral wedges with a pink sash and minimal jewelry. I really wanted to make this top the star of the show.
But I'm really curious: What accessories would you have chosen?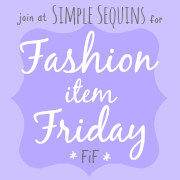 I am joining in Simple Sequins' Fashion Item Friday linkup with this look today — head on over and check out the other featured looks!